Artisan Venture Tours: Announcing the Local Planner for Montana Corporate Retreats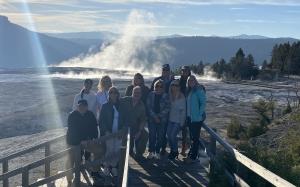 Corporate Retreat Client: Royal Refining, on Yellowstone National Park Tour
Option to stay in Paradise Valley, Montana. Photo taken along Yellowstone River
Montana Landscape Painting Workshop: Enjoy Getting Crafty with Team Retreat Activities
Artisan Venture Tours, a corporate retreat planning company based in Montana, excels in crafting unforgettable retreats in the American West and beyond.
Our group loved the Yellowstone tour. Both our guides were very personable and knowledgeable! The Old Saloon was also a blast and the band there was great!"
— AVT Client: Kimberly Larson - Royal Refining September 2023 Retreat
BOZEMAN, MONTANA, UNITED STATES, September 29, 2023 /
EINPresswire.com
/ --
Artisan Venture Tours
(AVT), the innovative
corporate retreat planning company
, demonstrates its expertise in organizing retreats in the scenic landscapes of the American West. Located in the rustic town of Livingston, Montana, the company is well-positioned to curate
Montana corporate retreats
that blend adventure, relaxation, and an authentic representation of local Western culture. Furthermore, what sets Artisan Venture Tours apart is its ability to design customized corporate retreats worldwide, providing companies with unique experiences in less-frequented destinations.
The Authentic Montana Experience:
At AVT, there is a strong emphasis on creating authentic experiences for corporate retreats, with a steadfast commitment to sustainability and community engagement, ensuring that each retreat has a positive impact not only on the team but also on the local environment and economy. They collaborate with local guides, artisans, and businesses, granting participants an authentic taste of Montana while sustaining the communities they hold dear.
Montana Activities that Unite and Inspire:
Artisan Venture Tours presents a wide array of activities meticulously designed to align with their client's interests and goals. Ranging from exhilarating outdoor escapades to enriching cultural immersions and wellness endeavors, they assist to deliver an all-encompassing and memorable retreat experience. Among the activities they offer are:
1. Wilderness Expeditions: Retreat attendees can embark on exhilarating hikes, river rafting, horseback rides, or even a guided fly-fishing excursion. Expert guides lead the group through Montana's pristine mountain landscapes, creating opportunities for team members to connect with nature and with each other.
2. Craftsmanship Workshops: Participants can immerse themselves in Montana's artisan culture by engaging in workshops led by local craftspeople. Activities may encompass pottery, painting, or leatherwork, fostering creativity and camaraderie within teams.
3. Culinary Adventures: AVT offers the chance to savor Montana's culinary delights with farm-to-table dining experiences featuring locally sourced ingredients. Cooking classes and wine tastings, guided by expert chefs, provide a delectable addition to the retreat.
4. Outdoor Team-Building Challenges: Teams can enhance their teamwork and problem-solving skills through outdoor challenges such as ropes courses, zip-lining, and orienteering, all set against Montana's stunning backdrop.
5. Wellness Amidst the Beauty of the West: For those seeking relaxation and rejuvenation, wellness activities such as soaking in natural hot springs, yoga sessions, rejuvenating spa treatments, and guided meditation can be arranged. These experiences introduce a serene and harmonious element to retreats, fostering well-being and mindfulness among participants.
Top Corporate Retreat Locations and Partnerships in Montana:
Artisan Venture Tours has cultivated strong relationships with a curated selection of Montana's finest vendors and venues. While acknowledging their valuable partnerships, Artisan Venture Tours remains attuned to the unique nature of each corporate retreat. Their flexibility allows for seamless collaboration with clients preferred vendors. Some of their beloved Montana destinations include:
1. Yellowstone National Park: Clients may immerse in the world's first national park, home to iconic geysers and awe-inspiring wildlife. Stay in Paradise Valley or West Yellowstone with resort options from rugged to luxurious. AVT can arrange guided trips with the experts at Yellowstone Guidelines. Attendees may unwind in natural hot springs and partake in activities such as horseback riding, fly fishing, and rafting.
2. Big Sky: Tucked in the Rocky Mountains, Big Sky offers prime skiing during the winter season at Big Sky Ski Resort and a variety of outdoor activities in the summer. Comfortable lodges and cozy cabins serve as ideal retreat accommodations.
3. Glacier National Park: Retreats amidst the majesty of Glacier National Park offer breathtaking mountain vistas, pristine lakes, and glaciers, providing a unique blend of adventure and tranquility. Stay at one of their favored authentic hotels in Flathead Valley, where attendees can embark on guided tours through this awe-inspiring national park.
Discovering Retreats Beyond Montana:
While Artisan Venture Tours has a special connection to Montana, the company also extends its services to organizing corporate retreats in various destinations across the United States, Canada, Mexico, the Caribbean, and Europe. Whether it's a beachfront location in Cabo San Lucas, Mexico, a mountain setting in Banff, Canada, or a cultural exploration in the countryside of France, their offerings cover a wide range of locations. They focus on tailoring experiences that align with team objectives, facilitating deep engagement with local culture.
About Artisan Venture Tours:
Artisan Venture Tours is a forward-thinking corporate retreat planning company that has recently emerged, specializing in curating distinctive and unforgettable retreats across the American West and beyond. With a dedicated commitment to authenticity, sustainability, and personalized customer service, they design custom retreats that invigorate, foster unity, and rejuvenate employees. To learn more or begin planning your next team adventure, visit
www.artisanventuretours.com
.
Sydney Graham
Artisan Venture Tours
+1 406-222-2411
contactus@artisanventuretours.com
Visit us on social media:
Facebook
Twitter
LinkedIn
Instagram
Powered by

EIN Presswire does not exercise editorial control over third-party content provided, uploaded, published, or distributed by users of EIN Presswire. We are a distributor, not a publisher, of 3rd party content. Such content may contain the views, opinions, statements, offers, and other material of the respective users, suppliers, participants, or authors.
Submit your press release